A Luxury Self Catering Air Conditioned Holiday Villa with Private Pool on the West Coast of Barbados...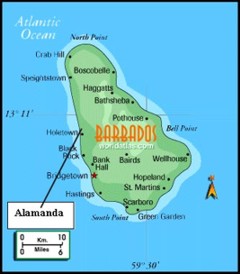 Barbados is the most easterly of Caribbean islands. It has a land area of 430 sq. km. The 1990 census reported 260 491 inhabitants, with a population density of 605 residents per km2, making Barbados the most densely populated of the Caribbean islands. The population growth rate is 0.27 percent per annum. The rural population accounts for 52 percent of the total population.
The weather is mostly sunny and fair in Barbados with average temperatures in the region of 80 degrees F / 27 degrees C. The days are warm with cool winds and the nights are magical. Together with its wonderful white sand beaches, Barbados is one of the world's leading holiday destinations.
The majority of the rainfall occurs between summer and November, with December through to summer being relatively dry. Even during the rainy season, rain is usually followed quickly by sunny skies with everything drying out within minutes. The hurricane season runs from June to October. Hurricanes usually avoid Barbados. They arise off the African Coast and head to the Caribbean, swinging north about 100 miles from Barbados. The pattern is reasonably consistent as hurricanes tend to bounce from one landmass to the next and Barbados is somewhat separate from the Caribbean island chain. This does not of course make us immune, but the last occasion which Barbados suffered a direct hit was in 1955.
Tropical rainstorms (which can be spectacular) sometimes occur in the hurricane season but the island is very porous and the heaviest rains quickly drain off into the underground lakes or the sea.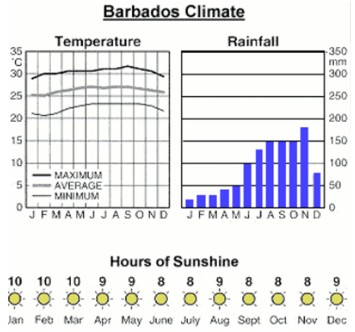 Source - http://www.barbados.org/weather.htm
Please visit the following sites for other useful information on planning your holiday in Barbados.
• http://www.find-our-community.net/region/Caribbean/Barbados_map.htm
• https://www.cia.gov/library/publications/the-world-factbook/geos/bb.html
Prices: from £34* per night per head (*based on occupancy of 6).